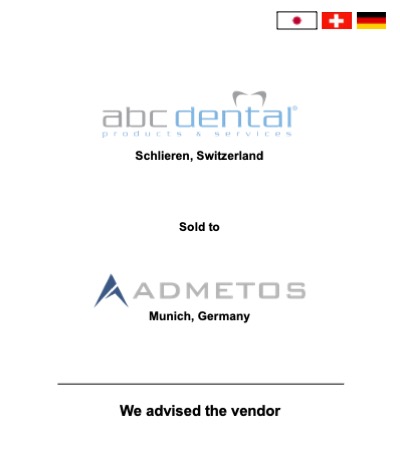 Hübner Schlösser & Cie (HSCie), the internationally active, independent corporate finance advisory firm based in Munich exclusively advised the shareholder of ABC Dental AG (Schlieren, Switzerland) on the sale of the company to TEMDAMED GmbH, an investment company advised by ADMETOS GmbH (Munich, Germany).
ABC Dental AG is a leading Swiss B2B dealer and distributor for dental products. From its headquarters in Schlieren, Switzerland, it sells dental consumables and technical equipment of well-known, high-quality brands and provides related technical services to dental practices across the country. Thanks to its high readiness to deliver, strong reliability and quality of service, ABC Dental has built an excellent, long-standing reputation and is the provider of choice for a loyal base of over 1,500 dentists in Switzerland.
"With ADMETOS we have found the ideal partner for ABC Dental with whose support it can further develop its leading position in the attractive Swiss market for dental products. The combined know-how of ABC and ADMETOS, especially in the areas of B2B sales and digital marketing strategies, is an excellent basis for the realization of additional growth potentials. We are pleased that we could lead this sale process for ABC Dental and its shareholder to a successful transaction despite the partly challenging market conditions", said Jan Cotta, Partner at HSCie and project leader on this transaction.
About ABC Dental AG
ABC Dental AG is a leading B2B dealer and distributor for dental products in Switzerland. It sells dental consumables and technical equipment of well-known high-quality brands as well as provides related technical services to dental practices. It serves a loyal customer base of over 1,500 dentists across the country, generating sales of around CHF 17 million with around 50 employees. For further information please refer to www.abcdental.ch
About ADMETOS
ADMETOS is an investment company for medium-sized businesses. It is privately owned, independent from banks, from investment funds and from stock markets, investing equity long-term mainly in companies in special situations with the potential to increase value. ADMETOS follows an operational approach and supports its portfolio companies in their development as an active partner for the management team with the goal of sustainably enhancing long-term value. For further information please refer to www.admetos.eu
About HSCie
Hübner Schlösser & Cie, located in Munich, Germany, is an internationally active, independent M&A advisory firm, specialized in acquisitions and divestitures of medium-sized and large companies worldwide. Since inception, the firm advised on more than 150 transactions with a total transaction value of over EUR 17 billion. HSCie is one of the leading advisory firms for medium sized transactions in Germany. For further information please refer to www.hscie.com
Contact details:
Hübner Schlösser & Cie
Luise-Ullrich-Strasse 8
D-82031 Munich/Grünwald
Germany
T: +49 (89) 998 997-0
info@hscie.com
www.hscie.com