Hübner Schlösser & Cie advised the Sellers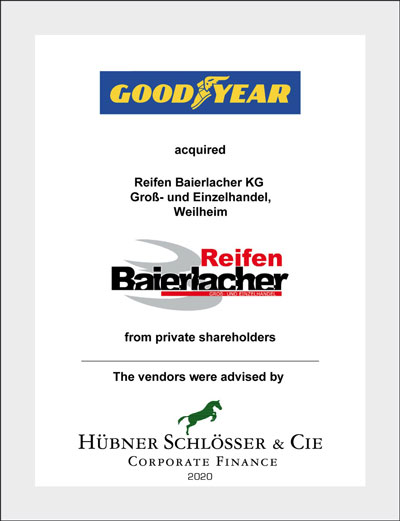 Hübner Schlösser & Cie (HSCie) exclusively advised the shareholders of Reifen Baierlacher KG in their sale of the company to Goodyear Group. The management team, including managing partner Manuel Baierlacher, will remain with the company and, together with the new investor, will continue to actively promote Reifen Baierlacher's growth strategy in the future.
With this transaction, Goodyear is further expanding its sales and distribution structure, increasing the added value of its products and brands and strengthening its presence in an important key market.
Reifen Baierlacher will continue to operate with a high degree of independence and flexibility, maintain its mid-sized customer- and employee-focus and at the same time benefit from the strong brand awareness and structures of a globally active tire manufacturer.
"This transaction means the tie-in of one of Germany's leading tire trading companies with one of the world's most well-known tire brands. The combination with Goodyear will enable Baierlacher to further roll out its successful business model and position itself even more strongly in a consolidating market environment. We are pleased to have advised the Baierlacher family in the sale process," said Sabine Moeller, partner at HSCie.
HSCie advised the sellers in all steps of the sale process. The managing shareholder comments: "That the decision to choose HSCie as our M&A advisor was the right one was clear to us from the very first minute. Throughout the entire process we received extremely competent, friendly and goal-oriented support. The professionalism and competence of HSCie was impressive. We are happy to have chosen HSCie and thank the advisors involved".
About Reifen Baierlacher
Reifen Baierlacher is a German tire wholesale- and retail-company based in Weilheim near Munich. The retail business comprises the business with new replacement tires and supplementary services for end customers in the southern German region. Wholesale comprises the Europe-wide business with replacement tires.
For further information about Baierlacher please visit www.baierlacher.com
About HSCie
Hübner Schlösser & Cie is an internationally active, independent corporate finance advisory firm based in Munich. In recent years, HSCie has handled more than 160 transactions in various sectors with a total volume of over € 17 billion. HSCie is one of the leading advisory firms for medium sized transactions in Germany.
Contact details:
Hübner Schlösser & Cie
Luise-Ullrich-Strasse 8
D-82031 Munich/Grünwald
Germany
T: +49 (89) 998 997-0
info@hscie.com
www.hscie.com