HSCie advises Management und Private Investors
HÜBNER SCHLÖSSER & Cie arranges acquisition of ADVANCED STRUCTURAL TECHNOLOGIES, Inc., in Oxnard, California.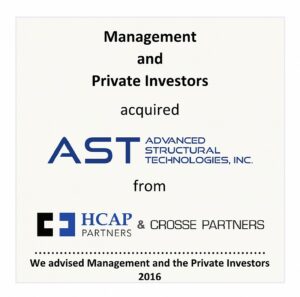 HÜBNER SCHLÖSSER & CIE identified, analyzed and negotiated the transaction, and organized and arrranged the financing by syndicating private equity investors and the management.
ADVANCED STRUCTURAL TECHNOLOGIES (AST) is the world´s leading manufacturer of forged aluminum pre-forms produced in small to medium quantities for car wheels and run-flat wheels of military vehicles. It also manufactures liner tubes for COPV (Carbon Overwrapped Pressure Vessels) that are used as gas tanks for the SPACEX rockets and hydrogen tanks of larger vehicles. At present, AST employs about 150 people and generates total revenues of US$ 24 million.
About Sellers
ADVANCED STRUCTURAL TECHNOLOGIES acquired its business via an asset deal indirectly from Crosse-Partners and Huntington Capital, two southern California based private equity firms.
About HSCie
HÜBNER SCHLÖSSER & Cie, located in Munich-Grünwald, is an independent corporate finance advisory firm, specialized in acquisitions and divestitures of medium-sized and large companies worldwide. In the last years the firm advised in more than 150 transactions with a total transaction value in excess of EUR 17 billion. With the AST transaction, HÜBNER SCHLÖSSER & Cie demonstrates its capabilities for additional value-added services in equity transactions and assumes the ownership task of monitoring and managing the acquired company.
For further information please contact:
Hübner, Schlösser & Cie
Luise-Ullrich-Straße 8
82031 Grünwald
T: +49 (89) 998997-0
press@hscie.com
www.hscie.com