Hübner Schlösser & Cie advised TAMARA COMOLLI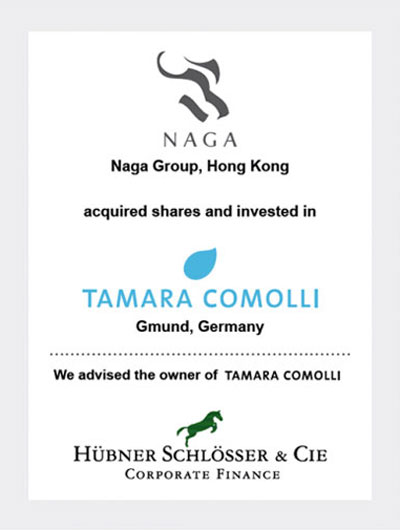 The NAGA Group ("NAGA"), a Hong Kong based holding company focused on premium consumer brands invested in TAMARA COMOLLI, a fine jewelry brand known for its unique spirit of "casual luxury" based on creations of colored gemstones.
Terms of the transaction were not disclosed. Tamara Comolli remains fully committed to grow the business and will continue to lead the creative and design team.
The transaction will provide TAMARA COMOLLI with financial resources and operational support to scale its core retail business in Europe and the US, accelerate the expansion of its wholesale network and strengthen itsbranding and digital strategy.
HÜBNER SCHLÖSSER & Cie advised TAMARA COMOLLI in all steps leading to the transaction.
About TAMARA COMOLLI
Founded in 1992, TAMARA COMOLLI has established itself as a fine jewelry brand known for a distinct sense for colored gemstones and its unique spirit of "casual luxury". Headquartered on the banks of Lake Tegernsee, Germany, with a US subsidiary in Palm Beach, Florida, the company directly manages a network of 7 standalone boutiques and more than 120 points of sales globally.
About NAGA Group
NAGA Group is a consumer-brands holding company headquartered in Hong Kong, China, focused on investing and bringing expertise to creative entrepreneurs and consumer brands. Prior to the investment in TAMARA COMOLLI NAGA acquired Talika, a French cosmetics brand specialized in eye care treatments and beauty devices, October 2018. Prior to founding NAGA Group Damien Dernoncourt ran John Hardy for 11 years, a global luxury jewelry brand originated from Bali.
About HSCie
HÜBNER SCHLÖSSER & Cie, located in Munich, is an independent corporate finance advisory firm, specialized in acquisitions and divestitures of medium-sized and large companies worldwide. In the last years the firm advised in more than 150 transactions with a total transaction value of over EUR 17 billion. HSCie is one of the leading advisory firms for medium sized transactions in Germany.
For further information please contact:
Hübner Schlösser & Cie
Luise-Ullrich-Strasse 8
D-82031 Munich/Grünwald
Germany
T: +49 (89) 998 997-0
press@hscie.com
www.hscie.com