PALFINGER closed the acquisition of HARDING from HERKULES Capital
HÜBNER SCHLÖSSER & Cie advised PALFINGER
PALFINGER closed the acquisition of HARDING, a leading supplier of maritime lifesaving equipment, from HERKULES Capital
HÜBNER SCHLÖSSER & Cie advised PALFINGER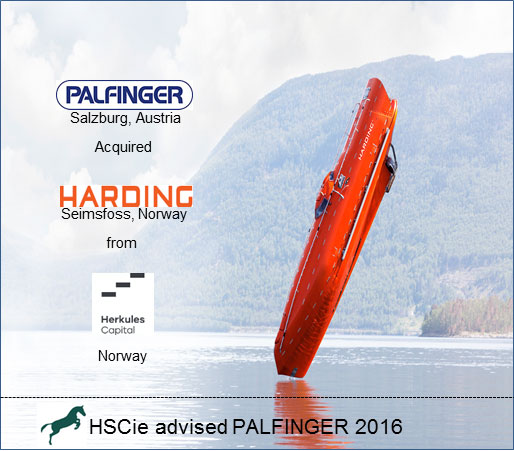 The PALFINGER Group has closed the acquisition of the HARDING Group from Norwegian PE fund Herkules and Management shareholders. Harding is a leading supplier of lifesaving equipment and lifecycle services for maritime installations and ships. In 2015, HARDING employed a workforce of approx. 800 and generated approx. EUR 140 million in revenues. Doubling PALFINGER`s current marine business, it will be an important step to achieve PALFINGER´s strategic aim of becoming an integrated supplier of marine deck equipment with a global service reach.
HARDING is headquartered in Seimsfoss, Norway, and, with its comprehensive service network, maintains operations in 16 countries around the world. In the marine industry, the service segment is an integral part of business operations, not least due to international regulations such as the UN Convention for the Safety of Life at Sea (SOLAS). Harding achieves approx. half of its revenue through lifecycle services. Its main products are lifeboats, rescue boats and davits. The company has customers all over the world in all relevant segments, including oil and drilling companies as well as shipyards for deep-sea vessels, tankers, container ships and passenger ships.
Harding is an excellent addition to PALFINGER's marine business. "Both the portfolio and the service network offer numerous synergies and there is hardly any overlapping. Together, we will become the market leader in lifesaving equipment. Due to the excellent structure of Harding's service business, PALFINGER MARINE will be less dependent on the oil price and investment propensity of the oil industry", comments Herbert Ortner, CEO of PALFINGER AG, on the significance of this acquisition.
HÜBNER SCHLÖSSER & Cie (HSCie) advised PALFINGER in all steps leading to the acquisition. Herbert Ortner remarks "HSCie has been a long-standing partner of PALFINGER and we appreciate their full commitment and skilful approach". Joachim Schlösser added: "We are happy that we could support PALFINGER AG in this very important project."
About PALFINGER AG
For many years PALFINGER has been one of the world's leading manufacturers of innovative lifting solutions for use on commercial vehicles and in the maritime field. As a multinational group headquartered in Salzburg, Austria, the company, which has approx. 8,995 employees, generated total sales of approx. EUR 1,2bn in 2015.
The Group has production and assembly facilities in Europe, North- and South America, and further in Asia. The pillars of corporate strategy comprise innovation and further internationalization, along with a growing flexibility of products, services and processes. PALFINGER has long established itself not only as the market leader, but also the technology leader in the global market for hydraulic loader cranes. PALFINGER is always in proximity to its customers due to its over 5,000 sales and services centres located in over 130 countries across all continents.
About Herkules
Herkules is a leading Private Equity firm in Norway and since 2004 has raised funds totaling about NOK 15 billion. Herkules has invested in close to 100 investments so far, comprising add-ons and 34 platform investments.
About HSCie:
HÜBNER SCHLÖSSER & Cie, located in Gruenwald near Munich, is an independent corporate finance advisory firm, specialized in acquisitions and divestitures of medium-sized and large companies worldwide. In the last years the firm advised in more than 150 transactions with a total transaction value in excess of EUR 17 billion. HSCie is one of the leading advisory firms for medium sized transactions in Germany.
For further information please contact:
Hübner Schlösser & Cie
Luise-Ulrich-Straße 8
82031 Grünwald
Tel. +49 (89) 998997-0
Fax. +49 (89) 998997-33
E-Mail: info@hscie.com
Web. https://hscie.com/
In Search of Value for our Clients