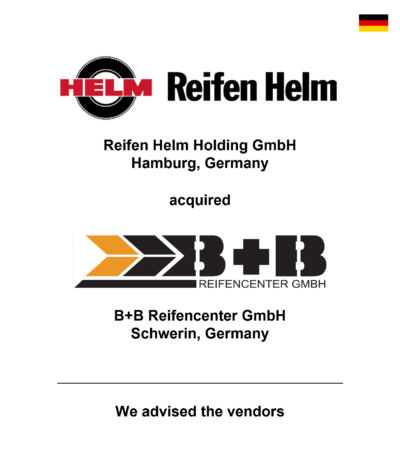 Hübner Schlösser & Cie (HSCie), an internationally active, independent corporate finance advisory firm based in Munich-Grünwald, exclusively advised the shareholders of B+B Reifencenter GmbH on the sale to Reifen Helm Holding GmbH. The two managing partners, Robert Baumann and Dirk Bernhardt, will remain with the company for a transitional period.
For Reifen Helm this means the largest acquisition since its foundation. Together, the group is now a market leader in tyre wholesale, retail and service in northern Germany. By bundling their purchasing and logistics processes, the two companies not only strengthen their market position, but also their efficiency in the area of goods logistics. B+B Reifencenter GmbH will continue to operate independently on the market and retain its headquarters at the current location in Schwerin.
HSCie advised the sellers in all steps of the sales process of the company shares as well as the approx. 180,000m2 property including commercial real estate, which still offers considerable expansion potential for the existing business as well as further project development at the location.
The current challenges in the tyre replacement market are causing many players to strategically reposition themselves. This is the second consecutive transaction HSCie has had the pleasure of assisting in the tyre trade, following the sale of Reifen Baierlacher to Goodyear in 2020.
"HSCie convinced us throughout the entire transaction process, both with their great depth of experience in M&A and with sound knowledge of the specifics of the tyre replacement market. The parallel successful marketing of the commercial property equally impressed us", commented the shareholders of B+B Reifencenter GmbH.
About B+B Reifencenter
B+B Reifencenter is one of the leading wholesale companies for motor vehicle tyres and wheels in Germany. The company is based in Schwerin. For more information about B+B Reifencenter, please visit www.bb-reifencenter.de.
About Reifen Helm
Reifen Helm is a family-run, comprehensive mobility service provider in the segments of passenger cars, trucks as well as special tyres. The company has 51 branches in northern Germany and its head office is in Hamburg. Further information on Reifen Helm can be found at www.reifenhelm.de.
About HSCie
Hübner Schlösser & Cie is an internationally active, independent corporate finance advisory firm based in Munich. In recent years, HSCie has handled more than 160 transactions in various sectors with a total volume of over € 17 billion. HSCie is one of the leading advisory firms for medium sized transactions in Germany.
For further information please contact:
Hübner, Schlösser & Cie
Luise-Ullrich-Strasse 8
D-82031 Munich/Grünwald
Germany
T: +49 (89) 998 997-0
info@hscie.com
www.hscie.com