Hübner Schlösser & Cie advised the Sellers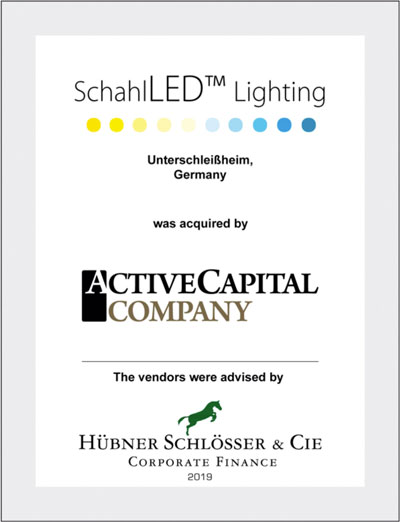 Hübner Schlösser & Cie (HSCie) exclusively advised the shareholders of SchahlLED Lighting GmbH in their sale of a majority stake in the company to private equity fund Active Capital Company (ACC). The managing shareholders keep a minority interest and, together with the new investor, will continue to drive SchahlLED's growth strategy forward in the future. One of the set goals is to bring the benefits of the company's leading intelligent LED solutions to a wider European industrial base. "Environmentally friendly green technologies and smart solutions are playing an increasingly important role in today's economy. With its range of intelligent functional LED solutions, SchahlLED efficiently combines both fields and is well positioned to benefit from the emerging trend towards an industrial Internet of Things. In Active Capital Company, SchahlLED has found the ideal partner to take the company to the next level and implement its successful business model throughout Europe", explains Sabine Moeller, partner at HSCie and project leader on this transaction.
HSCie advised SchahlLED in all steps of the sales process. The two managing shareholders comment: "We are glad to have chosen HSCie as our advisor. With HSCie, we had a highly professional and technically competent partner at our side in this decisive phase. In addition to its important investor access and excellent process control and negotiation management, HSCie is also characterized by its human element and unrestricted commitment".
About SchahlLED Lighting
SchahlLED Lighting is a leading turnkey service provider of Intelligent LED solutions for primarily industrial applications. The predecessor of the company was formed in 1999, while the company was established through a spin-off in 2006 and was acquired by management in a management buy-in in 2012. SchahlLED is headquartered in Munich, Germany and is active throughout Germany, Austria, Switzerland and Poland. The company conceptualizes and executes projects, delivers the intelligent LED lighting systems, oversees installation and assists in software integration and data analysis. SchahlLED serves over hundred new projects annually through its network of sales and service partners located throughout the DACH-region and Poland. For further information about SchahlLED please visit www.schahlled.de.
About Active Capital Company
Active Capital Company is an independent hands-on private equity fund focused on small- and medium sized enterprises in the Netherlands and Germany. ACC invests in companies active in the sectors Industry, Technical Wholesale and Business Services with revenues between € 10m and € 100m. Through a highly entrepreneurial and active approach, ACC maximizes the long-term value of its investments by supporting management in the execution of value enhancing projects and providing access to its extensive partner network. For further information about Active Capital Company please visit
www.activecapitalcompany.com
About HSCie
Hübner Schlösser & Cie is an internationally active, independent corporate finance advisory firm based in Munich. In recent years, HSCie has handled more than 160 transactions in various sectors with a total volume of over € 17 billion. HSCie is one of the leading advisory firms for medium sized transactions in Germany.
Contact details:
Hübner Schlösser & Cie
Luise-Ullrich-Strasse 8
D-82031 Munich/Grünwald
Germany
T: +49 (89) 998 997-0
info@hscie.com
www.hscie.com